And the finished pix...
As you can see, the finish is a satin trending to matte, silvery grey. It's very slick and smooth and not at all "rough" as some matte stainless handguns can be.
The grips are slim synthetic grips from Brownells. Micarta? I don't remember.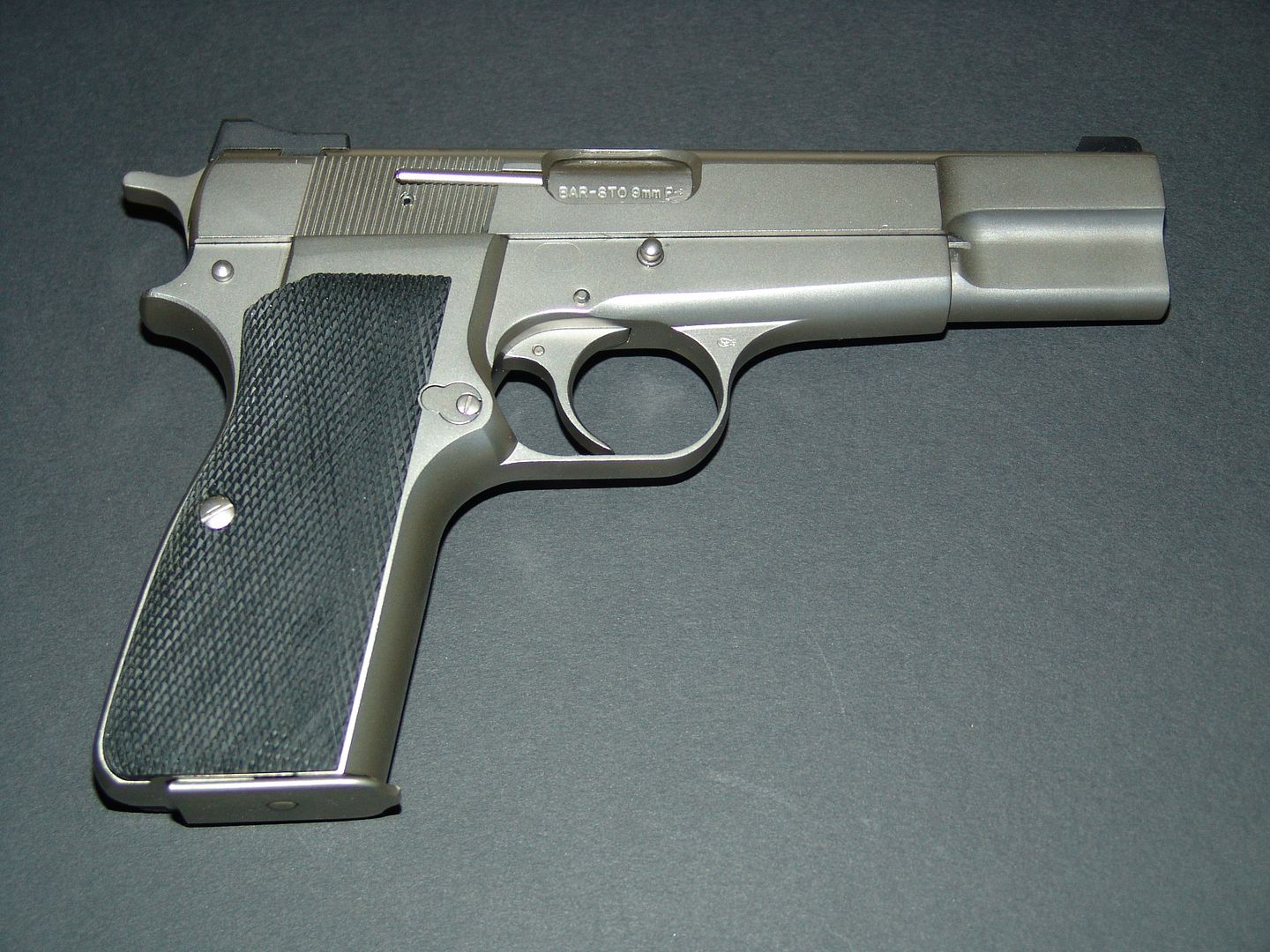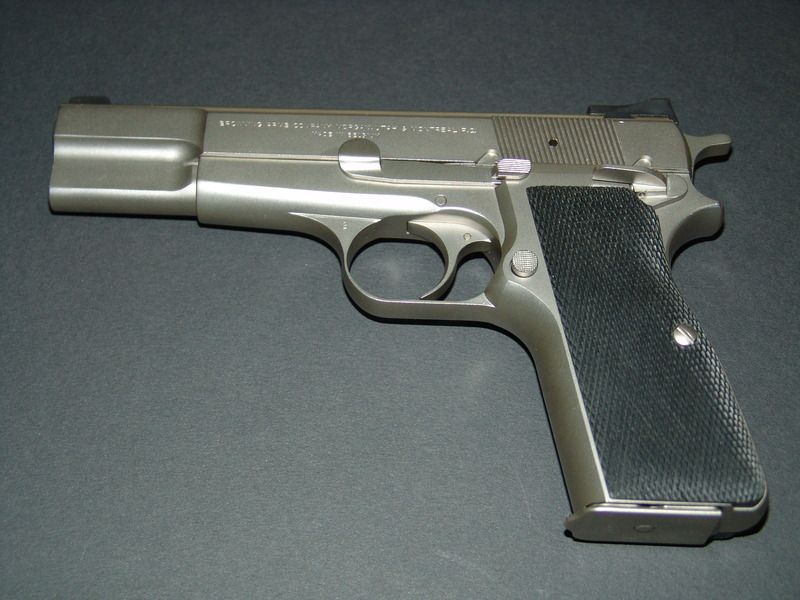 Many years ago there was a South African manufactured stainless steel Hi-power produced. I believe it was for political reasons that it never was imported to the USA. This is as close as I can come to having a SS Hi-power. The only parts that aren't coated are the springs and the interior of the bore and NP3+ has a very high resistance to corrosion.
The trigger isn't as sweet as before coating, but I assume the hammer doesn't follow the slide anymore either. The trigger is VERY crisp; just a hair heavier than before the trigger job. It's a very nice trigger and despite my observation and comparison, I really have no complaints with it. They did a very nice job with everything that they did.
They received the gun on 6/6 and I got it back yesterday, 9/2, so it took them approx' 3 months to do the work, and almost a full month after the second estimated date of completion. But one can't hurry gunsmithing. It takes as long as it takes even if we are waiting with the anticipation of a child on Christmas morning.
What is left to do is to put a few hundred rounds through it to break it in, and I oiled it up last night with that in mind for today. I expect it to be a tackdriver. You can't believe how tight the lockup is by adding just that thin coating of NP3. I also expect some malfunctions because of that tight lockup. But that's why the firing of 300 rounds for break-in. I don't think I'll check accuracy or even check sight-in until after that number of rounds are fired but it all depends how it goes. I'll be playing it by ear. After it's broken in it can be oiled or not. The coating is that slick. It'll also clean with just a rag.
One thing that I would do differently if I was to do it again would be to have Robar add some stippling to the front and backstraps. But I think I can apply a solution of my own if it bothers me. It was smooth and slick previous to the plating and it didn't bother. We'll see.
Edit: So I quit running rounds through it after 140 rounds. I knew after the first magazine that it was going to run fine. But I got the gun good and hot anyway. I did shoot 2 groups and it has plenty of accuracy, but I was also shooting my powderpuff (just making minor power factor) ammo, I'm not going to touch the sights at this time. I doubt that I'll ever shoot the gun in competition, so it needs to be sighted in for full power social situation ammo. But right now it's cooling off and later today I'll clean it in the Pro-lix tank and that will also lube it. Even though it doesn't need lube I'll still run it with the dry lube that Pro-lix turns into. Lock up is still very tight.
I still love this handgun. I'll probably play with spring rates next. I think it could use a heavier recoil spring, or maybe a modern multiple spring system.