AKA the Sub2000. (S2k from now on in this post)
I had one on order through my local gun shop for 5 months, then something happened to prompt me to get one on my own and not wait for them.
I wanted it in the M&P mag' version and in 9mm, specifically for USPSA PCC division competition. So the day I decided to find one on my own I found one on gunbroker.com and won the auction on the next day.
I want to state right up front that I liked the gun and the idea of the gun from the first time that I saw a Gen 1 Sub2k. I liked it's size and weight and just basically what it was supposed to be. If one is going to have a long gun it needs to be as short and light as this one is. Basically it's a first gen submachine gun in design, that only fires semi-auto. It's a stick with everything in line. I also like designs where one part serves a few functions. Disassemble this gun and you'll know what I mean. It has what is required to make it work and no Rube Goldberg excess parts. Nice engineering.
So my gun arrived last Friday, and on Saturday I shot it. I have a range at my home. I also sighted in the open sights for 50 yards. Then I cannibalized an Aimpoint CompM3 and slapped it onto the S2k. That got sighted in also. I practiced with it a bit and decided, "Yes, shoot this tomorrow at the match.". So I did. I brought my M&P just in case I changed my mind at the last minute, but it stayed cased. The main reason I wanted to shoot it is that I shoot in Carry Optics division with a 10 round mag limit. This match was going to be a special high round count match and extended mags would be nice to use. PCC division has no mag size limit and that came in handy. I still had to recharge the gun for 2 stages. My extended mags have a 27 round capacity. One stage was 28 rounds, and the other 30 rounds. The Glock mag version wouldn't have that problem, but I wanted M&P mags.
So how did I do? OK for a first time with a brand new gun. I need to work on my reloads a bit. I think due to the bullet shape and the leade in the barrel I couldn't manually unload the gun, firing it instead to remove the chambered round. But accuracy is good as I learned on Saturday, and It handles fine. I need to mount a different optic higher and differently so that I can fold the gun again (midwest industries). As it sits now the gun can't be fully folded. By sitting low it also clutters up the sight picture with the open sights.
I thought that the trigger might be a problem, but in use I didn't find that at all, and after the match the trigger was actually much better than before. I had trigger springs, trigger, and trigger guard on hand (Mcarbo), so yesterday I installed the parts. The trigger is lighter today, has a better trigger for the finger and an aluminum alloy trigger guard.
So for a little over $200 more (for the mount and optic) my new S2k will be complete and a better gun for competition. It was good before, but it'll be better. After I change that I'll probably use it as is, to see if anything else needs changing. About all that can be done additionally is a new front sight and a rear sight that I can lay down and get out of the way, but with a higher optic I don't think any of that will be required.
I did get some malfunctions with it, but they were induced by me and not the fault of the gun. Twice I didn't get the mag' seated fully and had failures to feed. Other than that it ran fine and fast. Now that I've shot it in a competition I like it even better now than when it was merely a twinkle in my eye. Nice little gun for what it is, and it won't break the bank to allow one to enter into PCC division. It's usable right out of the box, but an optic does make it faster. Now I'm looking for a stage that has some distant targets... all A zone hits if I do my part.
Oh, I did need to put some blue loc-tite on the thread protector at the end of the barrel. It seemed to loosen under firing. It's no big deal, I put loc-tite on lots of threads on all sorts of guns just to be certain.
Pix or it didn't happen...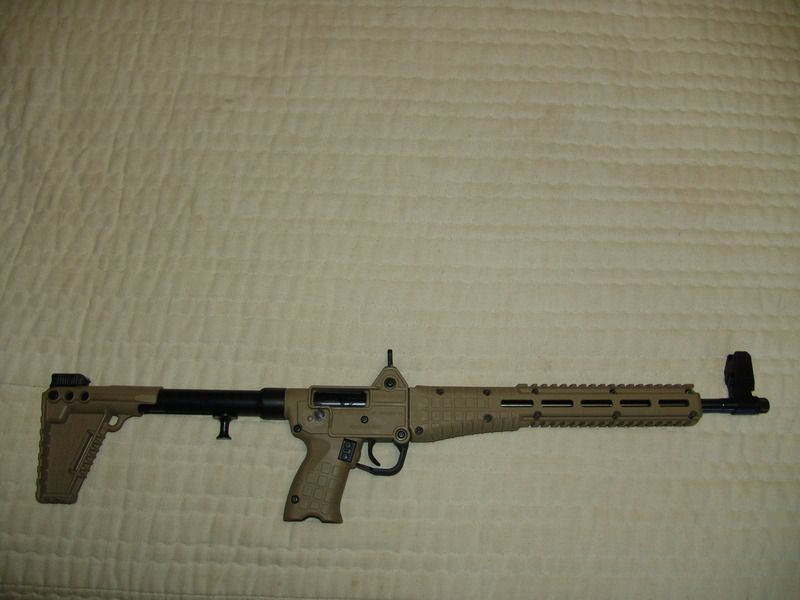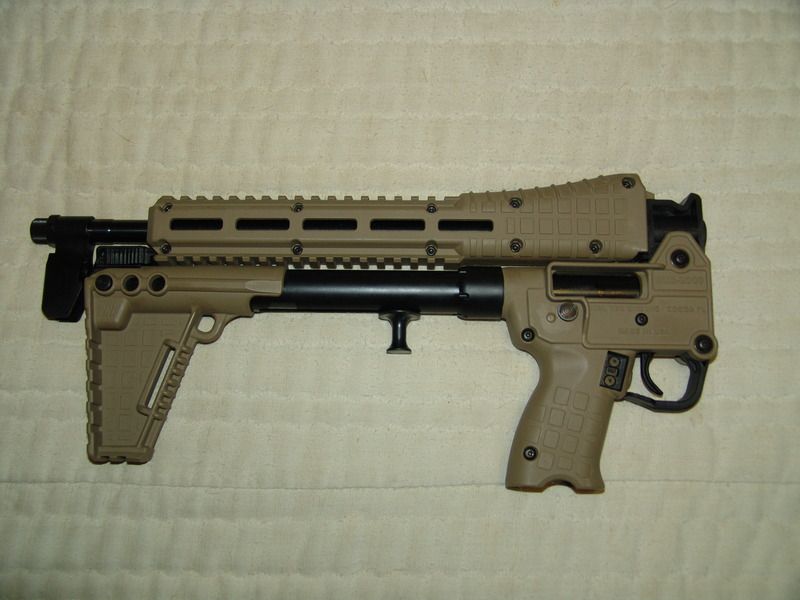 Here it isn't fully folded due to the optic, but it still easily fits into a laptop case.