I recently received a new OWB holster from KT-Mech holsters. If any one is looking for a great, kydex, OWB I highly recommend this holster. I purchased it for my CM9 and it fits perfectly. Pulls the gun in very tight, very comfortable, contours the body nicely, and uses just the right amount of kydex.
The price is very affordable and I think it took a little less than two weeks to receive the holster.
I'll attach links to their site and here in a few days I'll post some pics of me wearing it.
Picture of holster off of their website: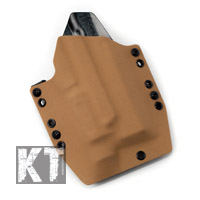 YouTube Video:
KT Gunfighter Holster /w Tracy Carr - ATI 1911 .22lr - KT MECH LLC - YouTube
Company Website Link:
KT Holsters - Home