I only have three suppressors is all, the abraxas, that norrell-design .22 pistol, and an M4-2000 for AR/CAR use. But the abraxas is by far the one I use most; it's just very versatile.
This is a puma 1892-design 16" carbine in .357 magnum that I had modified to accept a suppressor and a red dot. I've had more than one person use the word "abomination" when seeing it for the first time, but it's HUGELY versatile and practical. Running just-subsonic 158-grain handloads, it's got roughly the muzzle energy of a .45acp govt model shooting 230 hardball, but basically zero recoil and is still quieter than my gamo pellet gun. And even those that hate it when they see it don't want to give it back once they use it. It's been a phenomenally handy little setup for me:

I don't know if that pic got stretched a little when I cleaned it up or if it's just the angle, but the gun's not as long oal as it looks there; so for comparison here's a better pic. Notice that even
with the suppressor attached
, it's still only the same size as a standard 10-22. (This was before installing the scout mount):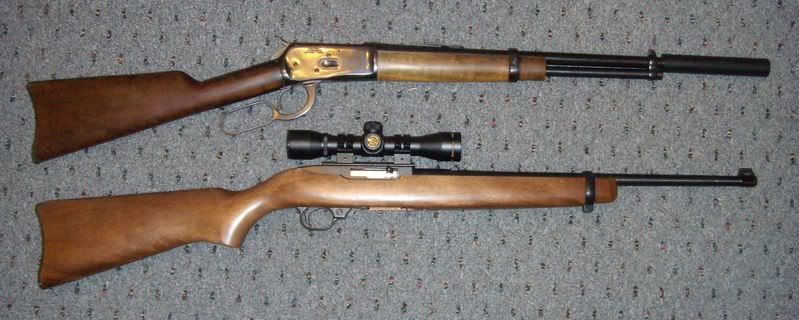 This is a cut-down, threaded & suppressed single-shot, that's even quieter to operate/reload stealthily than the levergun. Barrel is still over 16" so no class-3 issues with it. I'm in a very rural area (north-central Arkansas) and this is a sweet little 'critter-getter' setup; largely for nuisance animals around the property. It's a .357 magnum, but I mostly use .38-special-level loads in it to keep it subsonic & quiet. Same abraxas suppressor:

Without suppressor, it looks odd, but still over 16", and still as powerful as a .44 magnum handgun when using full magnum loads:

And..... the fun one. An old marlin camp-9. Rear optic is a normal bushnell red dot in extra-high rings; front is a DBAL clone with visible laser, IR laser, and IR flood. Using NV headgear, the IR setup gives you basically a spotlight/laser combo, that's only visible to NV-wearers. This setup does put the red dot higher than ideal, but it's worth it for me personally to have the zero-fuss option of switching between regular optic or NV use. Sighted at 60 yards keeps it within 1.5" of POA from 5 to 75 yards; and the short ranges I use this at, the extra mounting height isn't as bad as it sometimes would be. I've switched it to extra-power recoil springs to help with heavy-bullet loads and the increased blowback a suppressor causes.
I had a 12" picatinny rail mounted when it was threaded: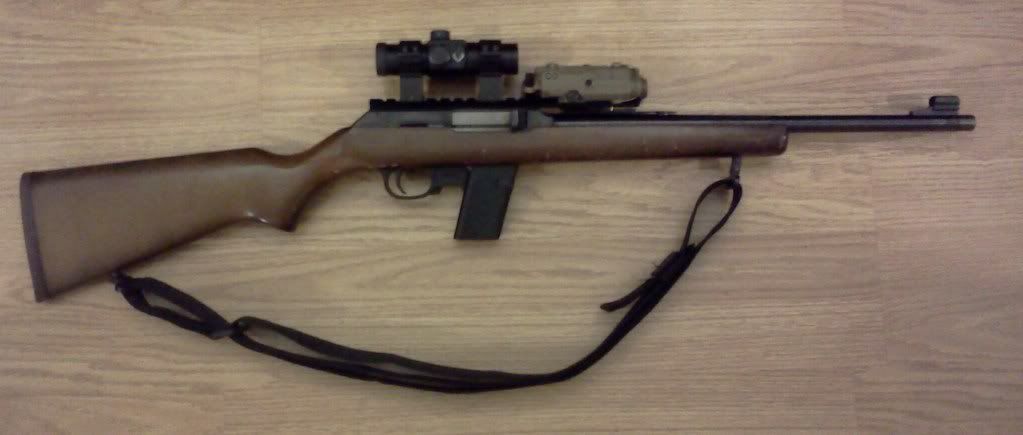 With the suppressor in place:

Suppressed, it's not as quiet as the levergun with same-power loads, that's the inevitable trade-off for the faster follow-up shots of the semiauto. The blowback action makes it about as loud as a suppressed 9mm pistol; still very quiet, but not not up with the sealed-breech lever action.
Ok; that's all the porn for this morning. Gotta go help a family member do some electrical repairs at their house.
Wait - one more.... Glock 19, decked out for the inevitable zombie-squirrel invasion: