I just finished detail stripping the M2.0 and doing my standard tune up on it. I should of taken pictures while I had everything apart. Here's the best I can do assembled.
#1 is the nub that engages the striker block. However, now it also engages the sear. The sear is now 2 parts. The 2nd part is #2. It is held in place by the sear pin and the lobe that used to be engaged by the trigger bar loop. It's like a C clip with a hood. The sears *appear* to be the same 1.0/2.0, but the lobe on the 2.0 now only appears to serve as an anchor point for the new sear part which is the actual sear engagement point.
It will be interesting to see what APEX does with the 2.0. There's nothing to be done with the lobe now, it plays much less of a role in trigger feel. The back of the sear where the striker is held could be improved for trigger weight, but the break is pretty darn crisp. Even after cleaning mine up it still breaks at 5.4 lbs, a bit on the heavy side for my liking.
The striker block definitely needs cleaning up, felt and sounded like gravel. I reshaped and cleaned mine up and it as good as the APEX part now. However, it appears to be made of a much softer metal than before, maybe even aluminum. I intended to put a magnet on it while I had it out, but never came back to it. So an APEX USB would still be a worthy upgrade.
The 2nd picture below is with the trigger pulled so sear engagement can be seen.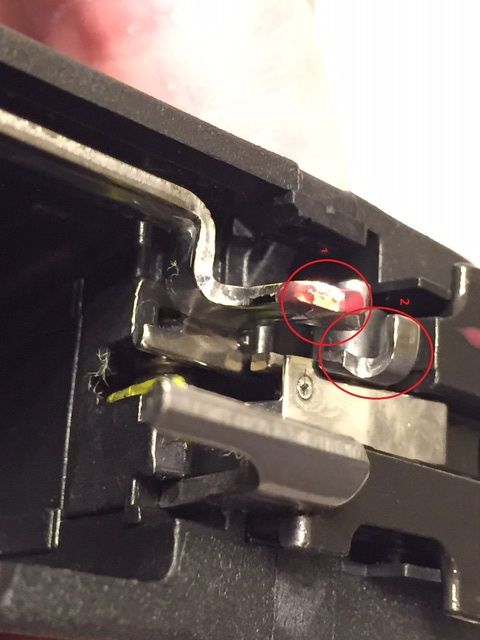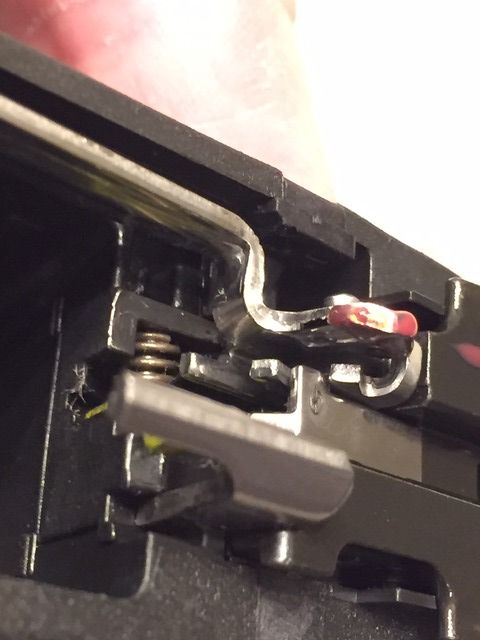 This picture came from the beararms blog and shows the "C clip" in the sear block better.