I got a Hi Point 995TS 9 mm carbine. The gun snobs might look down on these, but I find it fun, it shoots damn near anything you can throw in it and shoots pretty damn accurately. These carbines are also made on .40 S&W (4095TS), .45 ACP (4595TS, 9+1 rounds) and the newly released.380 ACP (3895TS). This makes it easier to get a carbine in the same caliber as you pistols, if you want to stay in one caliber, as I did to go with my M&P 9c. While these aren't as nice and refined as a Kel-Tec SUB2000 or Beretta CX4 Storm, but these are less than half the price of those and other pistol caliber carbines.
I wanted a long gun, but my budget said I couldn't afford one. I wanted something that can shoot a relatively inexpensive ammunition, so I could spend more time plinking. Finally I wanted something I could still used as a home defense gun. I came across the Hi Point Carbines and though big, fat, ugly things, but with a pretty cool premise for a long gun, a pistol caliber long gun, good for longer distances than the standard pistols and best of all, reasonably priced!
I ended up getting the 995TSFG, which is the basic carbine with the Target Stock and Fore Grip. With the carbine, I got the Pro Pack, which includes two spare magazines and a two magazine clip that screws to the butt stock. For looks, I got the clamp on Muzzle break/Compensator.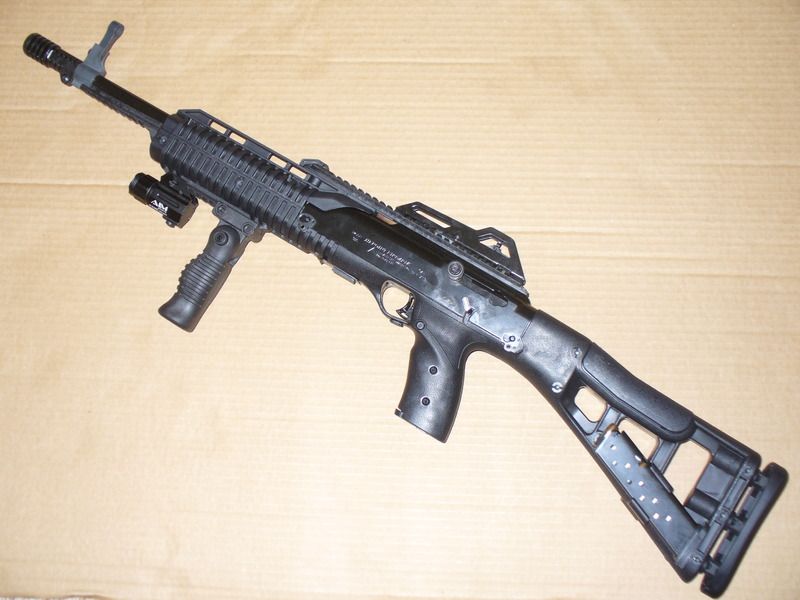 Hi Point 995TS described above, shown with my AIM Sports Sub-compact Flashlight.
As for how it performed, It shot well with a mix of brands and types of ammunition, FMJ ball, JHP, brass case, aluminum case, 124 grain,115 grain, standard and +P. Out of that I had two FTFs, both with 115 grain American Eagle Aluminum case FMJ. Upon closer inspection, there where spotty contact points on the feed ramp. I polished the feed ramp working from 320, to 600, to 800 then finished with 1500 grit wet/dry papers. While working the feed ramp, I noticed several noticeable peeks and valleys from the machine marks. These cleaned up very nicely and so far appear to feed with no more issues.
Accuracy wise, it shot very tight at 25 yards. I had a target board setup on a cheap wire frame. After I got zeroed at 25 yards, I went to shoot the 50 yard targets and I hit the upper arm of the target stand and blew it completely off. This caused the targets to flap around. All I could do was shoot the paper, which I hit very easily. I was running out of time and I just left the broken target stand at the range, as it would take too long to wait on the range to go cold and retrieve it. As it was, I didn't get to zero at 50 yards as planned.
The previous zeroing was to see how accurate it could be with the stock iron sight, which for what I was able to do was pretty good. I say this, because I just got in a
Primary Arms Classic 30MM Red Dot Sight (GEN II)
and a bipod. I also have a full length aluminum Picatinny top rail, an aluminum bottom Picatinny rail (both made by
Longshot Mfg.
). I also have a set of Magpul MBUS Gen2 sights on the way, which will be absolute cowitnessed with the red dot, but folded down when not in use.
Yes the capacity of these guns are only 10+1 rounds, but this was don to keep manufacturing costs down and keep them 50 state (well 49 state, unless you outfit it with a magazine bullet button in Comunist-fornia). ProMag makes a 15 round magazine, but I don't need to go into their quality.
These aren't bad rifles, considering their price. The feed damn near anything (sometimes with feed ramp polishing, as with mine) and are pretty accurate, for a pistol caliber. If your into Mall Guns or just a fancy play toy, there are a few people and small companies that make gun specific accessories, aside from the universal Picatinny or Weaver mount accessories.
I'll be updating this as my mods come along, in the meantime, I've got a red dot and bipod to mount.