I'm sorry I didn't get new-in-box pictures of my new Mossberg 930, but you can get those online. I'm going to do an extensive modification of this gun for use in 3-Gun and Practical shotgun matches, and I figured I'd document the progress.
Why Mossberg? Well, to be honest, the base gun it CHEAP!!!!! I got the gun with two barrels off gunbroker, including shipping AND FFL for under $500. Selling off the slug barrel will drop the price closer to $400! Once I finish modding the gun, the barrel, action, loading port, mag-tube, sights, EVERYTHING will be changed... There's no sense heavily modding a $900 stock gun, when you can chop up a $400 gun and be just as fast...
The Mossberg 930 I bought was a Waterfowl/Deer Combo version. It came with a 28" vent rib barrel with a fiber-optic front sight, ports in the barrel about 2" back from the chokes, and Mossberg's Accu-Choke system. It also came with a 24" slug barrel with rifle sights. I just sold the slug barrel today online. Why??? I already own a Rem 870 with 5 different barrels. This gun is for competition, not hunting. I recouped the money on the slug barrel, not as much as I wanted, but I sold it fast, under a week.
To the mods!
First Mod: Shell capacity.
For 3-Gun, you
NEED
8+1 capacity (Tactical Division). The best extended mag tubes on the market are Nordic Components Tubes. I've owned Choate mag tubes before, but they are notorious for self-destructing in competition. The NC version is twice as expensive ($75), but I went with it, as I want to run this gun for YEARS, with hundreds of rounds per month. I got the +4 (8+1 in the chamber) version for this gun, and NC also sells extended caps, which can bring the tube to +5 (9+1). The 930 can be ghost-loaded, so in outlaw matches, I will have 10+1 if I want. The +4 tube will run right to the end of a 22" barrel, which is optimal for the game, and 99% of the time, you start loaded with +1.
The Nordic Components tube is unreal... It can't be appreciated until you FEEL one. It is milled from solid aluminum, and the fit and finish is like the Pyramids in Egypt... You cannot even SEE the seam between the cap and body, and the threads are so fine it takes about 20 minutes to screw it down (slight exaggeration). It is so light, you'd think is was titanium. A+++ The spring has to be cut to length, but you can cut it long, and then run it for a while, then trim it to your own preference for feeding strength. They recommend 10-16" past the cap. I trimmed mine at 15" and then bent over the ends so it would seat better in the follower. I'm using the stock 930 follower for now, and seeing how it runs.
Second mod... Barrel work.
Eventually, my barrel will have the following specs:
22+/-"
Vent rib with fiber-optic front dot (maybe fiber-optic rear)
Adjustable chokes (extended knurled sporting-clays chokes for easy change-over between stages without tools)
Lengthened Forcing Cone (for better shot pattern, and reduced recoil)
I got quotes to do all this for between $150-480... and I'm cheap... so I'm doing half of it myself!!!
So far, I chopped the barrel myself to 22" (front of the closest rib). I did this in my own vice, by hand, with a new hack-saw blade! It came out damned close to perfect, and I squared it up with a file and fine sand-paper. It will be machine squared and crowned anyway when I send it in for chokes... For the front fiber-optic, I have two options. I can bring it to a buddy who works on 1911s and ARs and get the vent rib drilled and tapped for the original front sight, or I can get a TruGlo Fiber-Optic that locks right into the front rib for under $30.
When I send it out, I'm anticipating $70-80 for choke threads and forcing cone work. I'll get it threaded for the factory chokes, but there are bunch of really good aftermarket extended chokes for the Winchester guns, and the Winchester and Mossberg thread pattern/depth are the same, as far as I know.
Third Mod: Open up the feeding port.
The Mossbergs are NOT designed to be fed FAST... The rim of the shell sits well forward in the feeding port when seated in the mag tube. When feeding shells fast, you tend to pinch your thumb-tip PAINFULLY between the feed ramp and the receiver. I took out the file and the Dremel and "relieved" the front edge of the feeding port a bit, and now it's fantastic. Many of the competition shooters hog out the whole feeding port, front and sides... but I'm going to leave mine factory width for now, and see if it's slowing me down.
The 930 cycles very fast as is, without many bolt mods etc, and it is notoriously reliable with any power ammo (where most semi-autos are finicky with light loads). This is a big reason I started with this gun in addition to price.
Fourth Mod: Stock drop.
One of the great things about the Mossberg is that it comes with a set of adjustable stock "shims" to adjust the drop. from the box, the drop was to "high", and with my cheek weld, I saw too much rib. I installed the .250" drop shim, and it's now PERFECT. When I snap the gun to my cheek, I see a sliver of rib, and the whole front bead. I love it.
With the added mass of the 12+" aluminum mag-tube extension, but the chopped (6") steel barrel, the balance is fantastic, and it swings and point very nicely, even fully loaded.
Future Mods:
- Front sight (going on this week)
- Chokes and forcing cone (not done yet)
- Rear sight??? We'll see. It might slow me down on steel, but help with slugs.
- Trigger polish work.
- ???? We'll see
I can't wait to get out and shoot this sucker. First match is this coming Sunday, so it will likely be "cylinder" choke for now, with no tubes, but I'll have a front sight on it! I'll likely pump 50-100 through it including some slugs on Friday, then go hot Sunday for the maiden match... Updates and pics as I go! I'll post current condition pics tonight.
Better Pic Tomorrow!!!!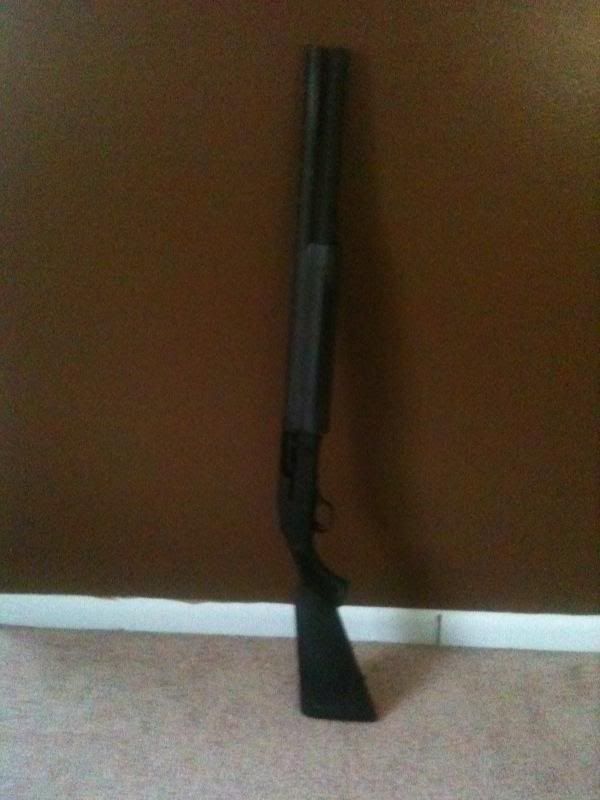 Investment:
$480 for the base gun (2 barrels)
-$80 for the slug barrel
$75 for the mag tube extension
$0 for the barrel chop
$10 to re-install front sight
$90 for choke tubes and forcing cone work
$0 for the feeding port work
$0 for the trigger work
Total $575 for a Competitively Modded Mossberg!!!
Stock Benelli: $900
Stock Winchester: $700
Stock Remington: $600
JeffWard