It's very rare that I start a thread here, but thought I'd share this...
Iíve not used much thermal-imaging in my life, and after playing with the FLIR-One for a day now, I have to say that itís absolutely NOT the best thermal-imager Iíve used. But it absolutely IS the best sub-$1K thermal-imager Iíve used.
Currently made only for the iphone5 and 5s, itís a slip-on unit that looks a lot like an external battery pack. Actually, it does have a rechargeable battery pack in it, but thatís strictly for its use; it doesnít bleed off any power to the phone, at least as far as I can tell. The battery powers the flir-oneís own cameras, a thermal camera and a visible-light camera that it uses simultaneously, generating two images that it melds together for viewing. That one facet Ė the merging of the thermal with a normal image Ė is a VERY good thing. It gives the user visual references that they can see, combined with the thermal that we canít. The benefit is that you not only see the heat signature, you see it in relation to visible objects, which greatly helps in ďfindingĒ things. One example: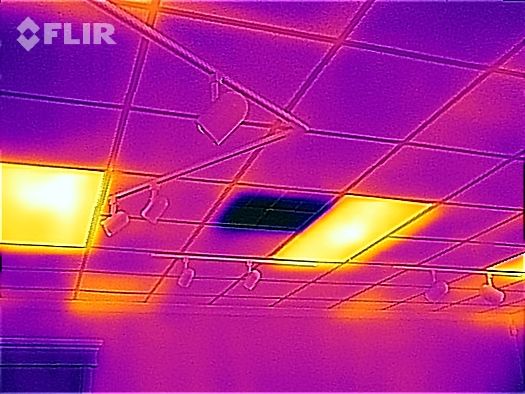 So in that image, I can see several things going on there. The dark blue square in the center is the air-conditioning register, the bright yellow rectangles are the fluorescent lights, and the orange splotches at the back edge are where there is apparently a lack of insulation above the ceiling tiles. With a normal thermal image, Iíd have the same color-based info, but with that info being superimposed with the visible-light image, Iíve got an easy, exact, visual reference of exactly
where
all those things are going on, in a spectrum that I can still see without any help from the thermal imager.
Also, I can instantly tell which A/C registers are blowing cold, which breakers in a panel are hot, etc. No need to go to each one & check; just crank up the camera and let it tell you visually and definitively.
It has different modes, presenting different viewing palettes. This is a monochrome, white-is-hot setting: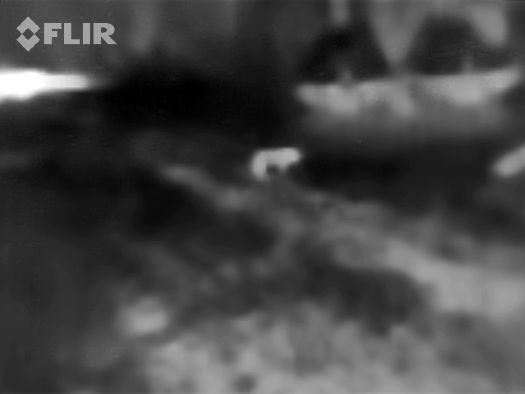 The graininess of that image is my fault, I'm almost certain. You have to occasionally Ďtuneí the camerasí imagers, and I wasnít doing so. (It has an icon that tells you to re-tune, but I didnít catch on right away.) This is the same cat just a minute later in the normal color mode, after a 5-second re-tune: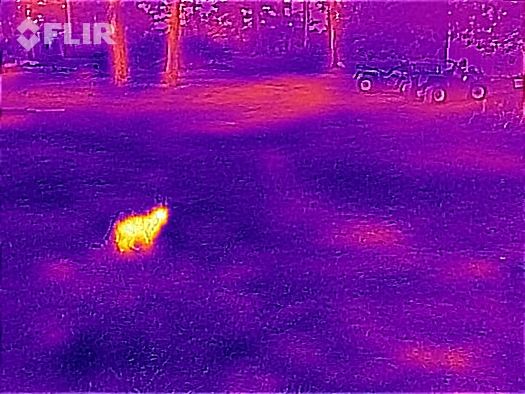 You can see that everything in this second pic is much more defined. Yes, the re-tune thing every few minutes can get to be annoying, and if this were an expensive unit Iíd definitely be annoyed about it. But the $349 cost and two-image superimposing combine to make it hugely worth it imo.
There are a few optional functions you can turn on or off at will. One is a spot-temperature icon. It shows the actual surface temperature (in either celsius or fahrenheit) of the point where the icon is: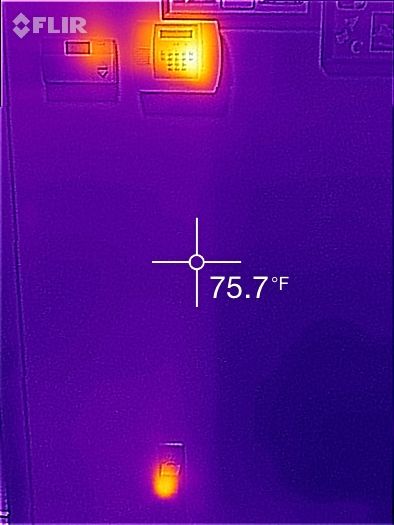 The wall is 75.7 F, and the control panel and its power supply are obviously warmer. The control panel isnít enough different to tell by feel, but itís clearly higher.
Frankly, if thereís one serious negative about the unit, itís the lightness of the documentation packaged with it. Thereís a little fold-out start-up sheet, and thatís it. There doesnít need to be a 90-page manual or anything, but a 10-page booklet would definitely be helpful in reducing the learning curve. Itís also not a long-range unit; at least with my very limited capabilities with it so far. I may get better with it, but so far itís not something I can use much past 30-40 yards or so.
Lastly in the list of weaknesses, it does tend to eat up the phoneís battery relatively quick. I havenít used it a ton yet, but it seems to be roughly 1% or of battery life per minute or two of live-viewing use on my 5s. So youíre not going to be able to use this for hours on end of surveying an area. An hour or two of use and I suspect the phoneís battery would be pretty drained. That said, an hour or two of viewing this kind of stuff is likely to seem like a very long time unless youíre just playing around & passing it around a group of people.
(FYI, these pics weren't taken at my home, but at that of a family member last night.)