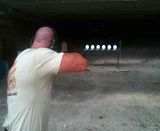 This is my Ruger 10/22 Stainless, with an EoTech 512 mounted up on the receiver. This run was just for the camera, and actually a bit SLOW. Just under 3 seconds. I made 3-4 runs under 2.75 seconds on the plate rack!
This gun shoots ANYTHING. I had 2 stovepipes in almost 1000 rounds of shooting in an afternoon. The EoTech swaps back and forth effortlessly between my 10/22 and my AR. With no change in zero. And they BOTH hit POA/POI at 15 yards, which is my primary distance for both.
We got bored tearing up the plate rack, and switched to shotgun hulls. I can shoot the brass bases on 12-Gauge hulls at 15 yards offhand with this little gun with the EoTech... Which is basically a human eye-ball sized target...
This isn't my primary defensive gun by any means, but if required, it will keep my dinner table stocked with small game protein if the need arises!
I understand an old wood-stocked Ruger 10/22 with an EoTech is a strange combo... But this black synthetic/stainless version looks right at home... And it works incredibly well!
God this is fun.... Trying to maintain a 10,000 round stockpile of 22 is going to be hard.
JW